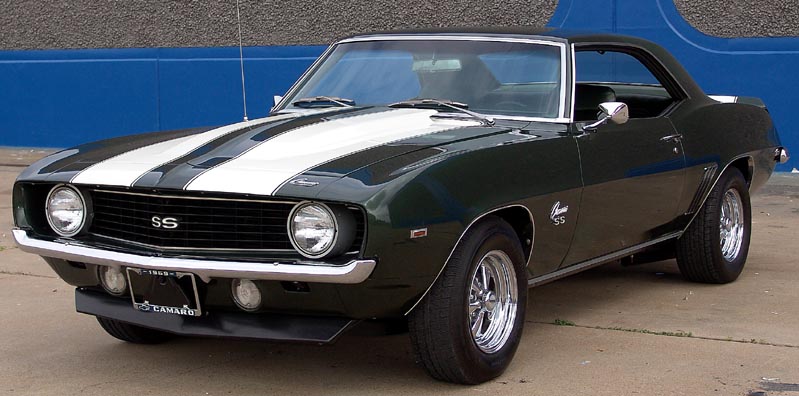 The Camaro SS was a performance option ordered by choosing RPO Z27. During the 1969 model year, 34,932 Camaros would be produced with the SS package. While the base engine was the small-block 350/300 hp, there were a number of big-block engine choices available. Ordering any of the 396 cubic inch engine options called for the rear panel to be painted black. the exception was that the Pace Car received the white tail panel. The black rear panel was an attractive addition to the SS package, and also served as a warning to potential competitors that this was no ordinary SS.
The basic SS package included 350 cubic inch, 300 hp engine: special hoot with simulated intake ports; sport striping (commonly known as "hockey stick" stripes) along the body; simulated rear fender louvers; power front disc brakes; F70-14 raised white letter tires on 7" wheels; special suspension with heavy duty 12-bolt rear; black painted body sills (except exterior colors 51 Dusk Blue, 57 Fathom Green, 61 Burnished Brown, and 67 Burgundy); special 3-speed transmission with 2.42:1 low gear; SS emblems on the front fenders, front grill, rear panel, and steering wheel (not included with N34 steering wheel). A Black Grill was another feature of the SS option as contrasted with the standard argent silver grill.
There were a number of changes, other that the basic model styling differences, between the 1968 and 1969 options. The base engine had its horsepower rating increased to 300 HP fro 295 in 1968. In 1968, there were two types of hood ornamentation used; a finned type of insert and the simulated intake stacks. For 1969, only the stack type of hood ornamentation was used. The 1968 model year saw the use of extensive engine chrome dress-ups. Those included chrome valve covers, air cleaner lid, and oil filter. For 1969, these were only available as an option.
It should be noted that the big block engine was available from the beginning of the model year. In 1967, the big block was added during the production year.
source: the 1969 Camaro Reference Book
by John R. Hooper
YOU ARE NOT JUST BUYING PARTS – YOU ARE GETTING OUR CAMARO EXPERTISE
Tags: camaro part, camaro parts, Camaro restoration parts, 69 camaro, 1969 camaro, aftermarket camero parts, chevrolet camaro, ss, z28, rs, chevrolet, restoration, 68 camaro, chevy, 67, 69, f-body, camaro, chevy camaro, chevrolet camaro, gm, z-28, 350, ls1, z/28, pace car, camaro ss, 69 camaro, first generation, copo, fbody, yenko, 67 camaro, 68 camaro, musclecar