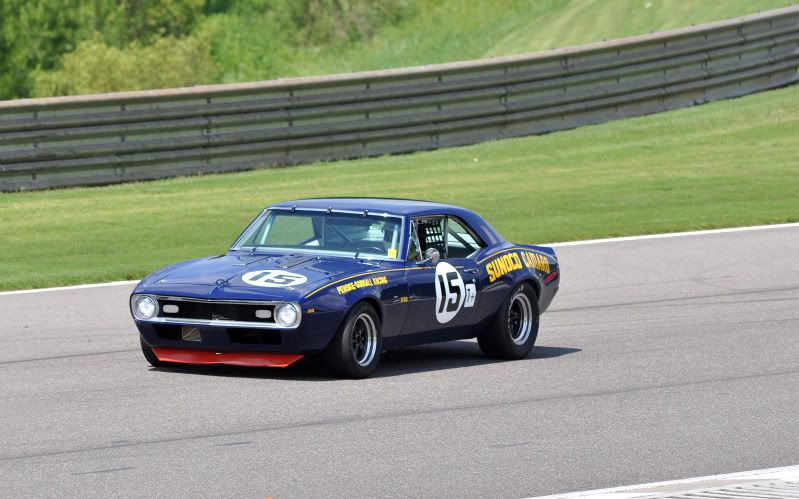 For 1968 Roger and Mark had a "body-in-white" acid dipped and prepared an all new 1968 car, adding the weight back in choice areas to balance the car and make the minimum weight. In its debut at Daytona it suffered cracked cylinder heads and lost to a Mustang. Vince Piggins, Mr. Camaro at Chevrolet, strongly suggested that Penske enter two cars at Sebring, the second TransAm of the year, which would be a 12-hour event within an event. Not having time to prepare a second car, Mark retrieved "The Lightweight" which had gone back to Godsall, for a one-race partnership. Roger and Mark fooled the tech inspectors by putting 1968 grille and taillights on the 1967 car and painting both cars identically. Then they sent the legal 1968 car to tech twice, once with Number 15 and once with Number 16, this worked so well that they repeated the process in qualifying and "The Lightweight" actually qualified them both. We know this because Mark put it into his book, "The Unfair Advantage".
"The Lightweight" went on to win the TransAm and finish 3rd overall in the Sebring 12 Hour against a strong international prototype field, finishing behind a pair of factory Porsche 907's. The team went on to win 10 of 13 events in 1968 and claimed the TransAm championship for Chevrolet, repeating the feat in 1969. The team built two Camaro racers each of the three years for a total of six. Four of these cars survive and all were present at the 2010 Kohler International Challenge at Road America where there was a reunion of Mark's team and many of his cars. They will also be at the Monterey Motorsports Reunion in August (Formerly Monterey Historics.
Today the car has been restored to its 1968 Sebring appearance by Rick Parent who along with owner-driver Pat Ryan and son Sean Ryan comprise "Unfair Advantage Racing", a name taken from the title of Mark's book. The team also campaigns the Frank Search TransAm 1971 Camaro for Sean. The Sunoco Camaro remains remarkably close to its 1968 specifications with the 302 V-8 still built by Tra-co Engineering and sporting a prototype cross-ram manifold first used at Sebring in 1968. SVRA rules require all TransAm cars to have original period engine blocks, intake manifolds, cylinder heads, brakes, and transmissions. They are limited to the original engine displacement and must weigh no less than 3000 lbs.
This lightweight 1967 Sunoco Camaro was raced by independent Canadian racers from 1969 through 1972 and was then stored until discovered by Jack Boxstrom in a Sanair warehouse in 1985. Unfair Advantage Racing has entered it at SVRA Mid-Ohio and Watkins Glen events each year since 1989. It has also been a regular at the Monterey Historic Races and has been in more than 125 SVRA events, including the TransAm reunion at Watkins Glen in 1995, where it finished first overall.
No Other Camaro Supplier in the Business Comes Close to Our Selection. We have been serving the Camaro Community since 1976 and Supplying Camaro Parts since 1981.
YOU ARE NOT JUST BUYING PARTS – YOU ARE GETTING OUR CAMARO EXPERTISE
Tags: camaro part, camaro parts, Camaro restoration parts, 69 camaro, 1969 camaro, aftermarket camero parts, chevrolet camaro, ss, z28, rs, chevrolet, restoration, 68 camaro, chevy, 67, 69, f-body, camaro, chevy camaro, chevrolet camaro, gm, z-28, 350, ls1, z/28, pace car, camaro ss, 69 camaro, first generation, copo, fbody, yenko, 67 camaro, 68 camaro, musclecar, second generation