The 1969 Camaro marked the last of the first generations and is arguably the most popular. While it shared the same basic body style as its earlier siblings, it featured entirely new, more aggressive looking sheet metal and an entirely revised grille. The familiar coke bottle shape was flatted more to give the 1969 Camaro a lower and wider looking stance. The grille was much more angled and the parking lamps were moved to the lower front valance below the bumper. Other than the roof itself, the 1969 Camaro doesn't share very much sheet metal with earlier models.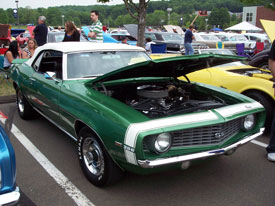 The 1969 Camaro was available in many different configurations. From a plain Jane sport coupe to asphalt eating Super Sport, there was something for everyone! All 1969 Camaros shared the same body unlike the Chevelle and were available in either coupe or convertible. Buyers could choose from the base model Sport Coupe, drag strip ready Super Sport, or road racing Z-28. The Rally Sport option with hidden headlights could be added as a separate packing to any of those models.
Interiors were only available with bucket seats and were available in a variety of colors and styles. Standard interiors were available in Black, Dark Blue, Red, White, Light Green, or Dark Metallic Green. Buyers who ordered a deluxe interior received unique door panels with molded in arm rests and Comfortweave seats with color choices of Black, Dark Blue, Light Green, Dark Metallic Green, or Red. Even rarer was the deluxe Houndstooth interior with unique pleats in Black, Orange, Yellow, or White. A fold down rear seat was available but very rare. An optional console was available with our without gauges. The buyer could have ordered a number of different exterior colors including Tuxedo Black, Butternut Yellow, Dover White, Dusk Blue, Garnet Red, Glacier Blue, Azure Turquoise, Fathom Green, Frost Green, Burnished Brown, Champagne, Olympic Gold, Burgundy, Cortez Silver, LeMans Blue, Hugger Orange, Daytona Yellow, or Rallye Green. Two tone color combinations were available in Glacier Blue/Dover White, Azure Turquoise/Dover White, Glacier Blue/Dusk Blue, Dusk Blue/Glacier Blue, Olympic Gold/Dover White, and Burnished Brown/Champagne.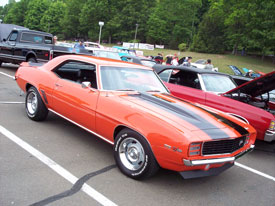 To complement the wide variety of available colors were the available drive train combinations that could be opted for on the 1969 Camaro. Base power was had by one of two available six cylinder engines. Buyers who wanted more power could opt for aV-8. Manual transmissions were either 3 speeds or 4 speeds. The 2 speed Powerglide was the standard transmission and a 3 speed Turbo Hydramatic was optional.
About 243,000 1969 Camaros were produced.
Model Options:
1969 Camaro
Models

1969 Camaro Standard Sport Coupe

1969 Camaro Rally Sport (hidden headlights)

1969 Camaro Super Sport

1969 Camaro Rally Sport Super Sport (RS/SS)

1969 Camaro Z/28

1969 Camaro Rally Sport Z/28 (RS/Z/28)

Body Styles

2 Door Coupe

2 Door Convertible (except Z/28)
Engine Options

230 cubic inch 140 horsepower 6 cylinder (base)

250 cubic inch 155 horsepower 6 cylinder (optional)

302 cubic inch 290 horsepower V8 (base Z/28, Z/28 only)

307 cubic inch 200 horsepower V8 (base)

327 cubic inch 210 horsepower V8 (replaced by 307 January 69')

350 cubic inch 255 horsepower V8 (optional, dropped midway)

350 cubic inch 250 horsepower V8 (optional late in the year)

350 cubic inch 300 horsepower V8 (base Super Sport, SS only)

396 cubic inch 325 horsepower V8 (optional Super Sport, SS only)

396 cubic inch 350 horsepower V8 (optional Super Sport, SS only)

396 cubic inch 375 horsepower V8 (optional Super Sport, SS only)

427 cubic inch 430 horsepower V8 (Central Office Production Order COPO)

427 cubic inch 435 horsepower V8 (Central Office Production Order COPO)